Corporate IT solutions could reduce the strain on your in-house IT staff, allowing your team to focus on matters regarding strategic growth rather than everyday operations.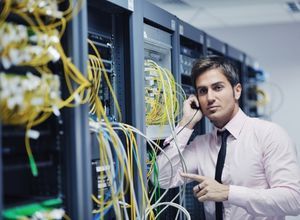 With less time spent on mundane tasks such as daily service and support, they could focus on giving the best software solutions for your company and ways to improve your IT infrastructure to increase productivity across departments.
What are these Corporate IT solutions?
Corporate IT solutions include all information technology services and support handled by an outside company via cloud-based software. These information technology solutions usually provide round-the-clock monitoring of your systems, proactive support, and timely troubleshooting and repair services—often before your in-house team realizes there's an issue.
A few examples of corporate IT solutions include remote monitoring and managing your network, video conferencing solutions and other collaboration tools, cloud-based storage, server maintenance, virtual machine management, and cybersecurity measures.
Corporate IT solutions include: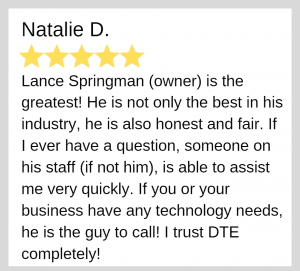 Cost savings
Round-the-clock IT services
Support and reduce strain on the in-house IT staff to become specialists in your organization's daily applications
Having one company manage all such services could reduce costs and increase your peace of mind that the systems will work when you need them
Benefits of Corporate IT Solutions
Let us explore the myriad benefits of IT support services offered remotely for small- to mid-sized business owners.
Holistic Approach Streamlines Operations
There's no finger-pointing or blame when something goes awry with monitoring, data storage, management, and security (to name a few) under one roof. Your corporate IT solutions and support team would fix the problem.
Centralized Applications and Servers Boost Security and Stability
Your data and apps are hosted remotely with managed services, usually in a virtual server environment. These facilities often follow international standards for security and control. Whether a natural disaster, flood, or fire strikes your office, your data will be secure in a remote facility. Managed service providers have standards to help you maintain business continuity if something goes awry in your office or off-site.
Round-the-Clock Service Gives Peace of Mind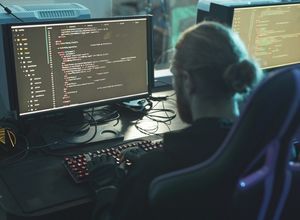 Imagine this scenario. After midnight, you are putting the final touches on a vital presentation when the server goes down. Using corporate IT solutions, there is a high likelihood the network would not fail because the tech team would notice there's a problem before you did.
Trained Corporate IT Solutions Professionals Could Fill Roles Your In-house Staff Can't
Today's IT infrastructure and software applications usually require unique, specialized skill sets. Implementing new software needs learning new skills that are only needed once. You could spend time and money training your in-house crew each time you roll out a new program or let your tech people handle the situation.
In-house IT Staff Could Focus on Innovation
With the basics of daily operations running on autopilot, due to your corporate IT solutions provider, your IT team could focus on your firm's core competencies and the innovative ideas that'll keep it at the top of your industry.
Corporate IT Solutions Companies Could Help Ensure Compliance
From consumer privacy to financial data security, compliance rules and standards help protect individual rights. Compliance has a crucial role in avoiding fines and growing your customer base, especially for business owners in the retail, e-commerce, healthcare, education, financial services, and legal industries.
Corporate IT solutions could shift the burden of compliance. Trained specialists can ensure your technology systems adhere to national and international rules and regulations.
Stable Costs Reduce Cash-flow Burdens
Corporate IT solutions have steady monthly payments and low start-up costs, making it easier to budget for IT expenses.
Centralized Management Simplifies Flexible or Remote Working Arrangements
The centralized management of your IT services reduces overall infrastructure costs. It guarantees all employees have the same technology experience. Whether employees work in the office, a satellite office, from home, or using another location, they can log in and experience the same security and speed as on-site.
Scalability Helps Conserve Resources and Control Costs
It is easy to scale up your corporate IT solutions as your company needs to grow. With pay-as-you-go service plans, you could even decide to scale up managed IT solutions during the busiest season and scale down again when required.
Future-Proof Services Keep You on the Industry's Cutting Edge
Your corporate IT solutions provider continuously learns, trains, and upgrades systems to ensure leading technology systems. You benefit from their investments and expertise to stay at the cutting edge of technology without paying for upgrades or training.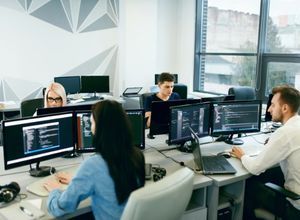 Reduced Infrastructure Expenses
Switching to corporate IT solutions lessens infrastructure costs in several ways. When a corporate IT solutions provider handles your infrastructure, you can downsize the amount of on-site infrastructure by using their data centers. You save on the cost of the hardware and the energy it uses, and the space needed to house it.
Additionally, you will see savings related to training, licensing, and consulting. All of these needs are covered by one monthly investment. These services do not go away to save you money, but rather, they are all streamlined and better managed via a single provider.
Economy of Scale
As your company grows, its support structure needs to grow, too. When you work with a Corporate IT solutions provider, you can scale your business up or down with just a simple discussion with your provider. If you employ 10, 15, or even 50 employees, your provider could support them. Similarly, if you are not using a certain application in cloud computing, you can easily get rid of it.
Corporate IT solutions offer the ultimate flexibility, capable of expanding and contracting based on your business needs. That is particularly useful in your business' early years and during periods of significant growth when things can change at a moment's notice.
Manage and Monitor your Company with Corporate IT Solutions
To improve mobile accessibility, security, and adaptability for the job, companies are trusting in business options. The employees could work from anywhere and anytime with the help of these tools.
Many companies are appointing coders to develop tailored enterprise services that specifically fit their requirements. It's a critical action to select the best business option.
You have to ask yourself a couple of inquiries to dive into the depth of requirements because that will help define your requirements.
You can ask your associates concerning their demands, centers, and also whatever the things they want to have in that remedy. And at the final stage, you can continue to the dedicated programmers to have an acclaimed business option.
It is essential to keep an eye on your company's business operations. If you want to run a profitable business, your business needs to do everything it needs to be successful. It's a great idea to keep a close eye on your business to ensure that it is growing and thriving.