Using business surveillance systems to improve building security is nothing new. Many people are familiar with commercial CCTV cameras or closed-circuit television systems, and many security experts have experience with on-site business surveillance systems.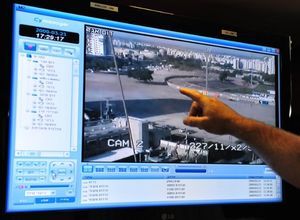 Nonetheless, the security industry is evolving, and there are now more options than ever for business surveillance systems. Although commercial video surveillance may assist increase security, there are a few things to keep in mind to ensure that the system's visibility and usefulness are maximized.
Talk to a Business Camera Systems Expert
Our friendly and experienced team is ready to serve. Submit your name and email and one of our IT experts will respond quickly.

There are a few things to think about before acquiring business surveillance systems for your establishment or property.
Commercial surveillance camera systems are an important aspect of any smart security plan because they provide property managers and company owners with a better image of what's going on in their environment.
However, picking the ideal business surveillance systems and knowing which aspects to look for before acquiring commercial surveillance systems is a critical first step.
What to Look for in Business Surveillance Systems
Field of View and Camera Resolution
Always inquire about the image's sharpness and the amount of optical and mechanical zoom available. When you purchase business surveillance systems, this is arguably the most crucial factor to keep in mind.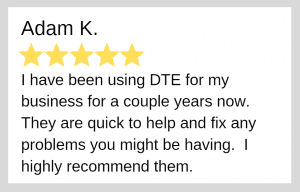 Look for surveillance cameras that could record at least 4 MegaPixel resolutions, which is twice the resolution of 1080p HD. You'll need to utilize the camera to pan in and out to identify individuals and objects better. Furthermore, a higher pixel density is an important factor.
Rate of Recording Frame
Another significant element to think about when it comes to business surveillance systems is the frame rate. Now, the frame rate is a factor that controls how smooth a video is captured. The amount of stills stitched together by a camera in one second is referred to as frame rate. The video can render smoothly if the camera possesses a high frame rate.
The footage will be choppy the smaller the frame rate is. The frame rate can be decreased to 10-12 FPS when things move slowly (such as in an office). For uses where objects/vehicles move quickly (tolls, street monitoring, sports stadiums), specialty cameras are offered that can impressively record video at up to 60 fps.
Models of Camera
There are a variety of camera types and form factors to choose from on the market. The sheer number of camera models available may make selecting one for your business difficult. However, selecting the proper one will be simple if you have your demands and specifications written down. Bullet, thermal, dome, panoramic, and pan-tilt-zoom cameras are some of the most prevalent camera models on the market.
Outdoor and Indoor Capability
So, where are your security cameras going to be installed? Are you purchasing business surveillance systems for use indoors or outside? You must know whether or not the cameras are waterproof. Will they be harmed if they come into contact with water or dirt? To withstand the impacts of inclement weather, the cameras should be high quality. Before making a purchase, be sure to verify your business surveillance systems' IP (Ingress Protection) rating.
Dark Areas and Lighting
Your business security cameras must be operational at all times. Low-light infrared cameras are available on the market, recording footage in low-light circumstances. The camera uses infrared rays to illuminate the darkened area. Unlike humans, it can see the rays and record video when the rays strike an item and wavelengths mirror back to the camera.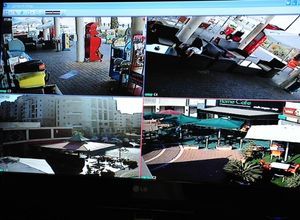 Several IR LEDs are required for the camera to record footage in low-light circumstances. Consider cameras with Starlight or LightFinder, which are superior low-light technology.
These cameras can capture high-quality color images in extremely low light without IR lighting. WDR (Wide Dynamic Range) technology enables some camera models to generate a better image in low-light situations (i.e., bright sun rays coming through a window in an extremely dark room; the special lighting of a jewelry store, etc.).
Audio Capability
Audio sensors in business surveillance systems are critical components of your security system. The majority of cameras on the market, on the other hand, do not pick up sound at all. It all depends on your preferences. Certain manufacturers support audio recording on their cameras.
Audio sensors enable the camera to do particular actions, such as turning on or off, closing in on a subject, or rotating to record footage of the person talking. It may be used for interaction as well. Please double-check your local laws and regulations since audio recording may be prohibited in some states and municipalities.
Motion Analysis and Detection
The most basic technology in modern business surveillance systems is motion detection. Video analytics software and the ability to detect and classify objects such as people (differentiating between male, female, and child), vehicles (SUV, sedan, truck, specialty vehicle), and specific events (loitering, groups of people (for example, a fight), vehicles moving too quickly, vehicles heading in the opposite direction, cars parked in a fire lane, etc.) are included in more advanced high-end business surveillance systems.

Each occurrence can trigger a different reaction, such as police being called automatically, security staff being contacted through walkie-talkie radio or/and SMS/email, a pre-recorded message being read out over a speaker system, and so on. Although they are more expensive, they will undoubtedly become more popular in business surveillance systems.
Commercial security cameras get smarter as a result of analytics. The CCTV cameras identify and inform the owners or security officers about strange sounds and movements using video and audio analytics. A notification is delivered to the owners via their mobile app.
Wiring Options
It is worth noting that, with some exceptions, wireless systems (which aren't entirely "wireless" because they still require a power cord) are mostly intended for residential use.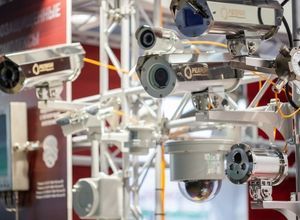 Wired business surveillance systems are popular among commercial establishments because they are quick, efficient, and offer more efficient technology. Surveillance cameras for business use come in various configurations that may be adjusted to your specific needs.
IP or Analog Camera?
Business surveillance systems are an important part of every industry. When picking a security camera for your company, you'll have to make a few judgments, including whether an IP or analog system is best for your needs.

IP cameras are commonly utilized in industries that demand a wide field of vision and close attention to detail. Analog cameras record grainier video and can only send it to a display on the premises; however, IP cameras can connect to mobile devices. Their footage may be seen from anywhere.

The decision between an IP vs. an analog camera for business is based on your company's requirements. Analog cameras do not connect to the internet, making them less prone to outside interferences like hackers, and they are often more cost-effective. Nevertheless, most businesses today rely on IP cameras due to image quality and convenience.
Storage Capacity
So, how much storage would you need? We're talking about video recorders that will function all the time. They'll need active storage devices that include high capacity. The first thing you'll have to consider is how many commercial security cameras you will install, the resolution, and the number of days you wish to keep the footage in your server.
Indeed, you could always set the security system to overwrite the oldest footage once there is no more space available. But, you must always invest in the highest capacity storage devices you can get.
Cloud Storage Capability
Today, numerous businesses consider using cloud storage services to be their security camera footage storage. The cloud storage services are utilized, and the installed physical storage devices are on your server. This gives the security camera extra space to store footage and assist the security team and owners in accessing the footage remotely.
The subscription fees might vary based on system type (residential vs. commercial vs. enterprise), camera compression, and resolution. These fees have been going down, making Cloud-based and Hybrid systems more and more famous. However, you'll have to make sure top cybersecurity measures are used to protect your data.
Compatibility with Other Cameras
"End-to-End solutions" from the same manufacturer could work very well; however, open-platform systems that enable mixing and matching various cameras are also popular and helpful when specialty cameras are required for a given project.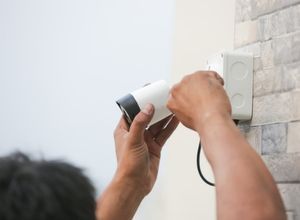 It also enables flexibility when you need advanced video management software. More robust third-party software integrates greatly with a wide range of cameras and brands.
Price and Warranty
Finally, you'll need to weigh each business surveillance system's cost, benefits, and features against your security budget. With smaller budgets, you might need to compromise on some features, but not with important things like camera build quality, quality of wires, and quality of storage device.
Also, make sure the business surveillance systems have at least a one-year warranty. An extended warranty may be available with certain systems when you buy through authorized partners, like us at Down to Earth Technology.
How Can Business Surveillance Systems Help Your Company?
Numerous businesses lose billions of dollars each year because of theft, bogus claims, and damage. You can secure your business, discourage theft and damage, and have documentation on hand in the event of an incident, whether workers or third parties cause the losses. How?
With CCTV cameras and comprehensive business surveillance systems! Protect your company, its assets, and its workers, among other things. Here are some of the benefits of effective security and surveillance systems for your business:
Reduce Crime Risks in Your Area
Criminals want to target companies that appear to be weak. You may lessen your company's perceived susceptibility by installing a security system and CCTV cameras, which may dissuade criminal activity.
Ensure to have CCTV camera systems built on the exterior and interior of your establishment and in the parking lot to avoid criminals from breaking into or vandalizing your employees' cars.
Criminals would be less likely to break into a company or damage a car if they're more likely to be caught.
Protect Your Business
Direct "blue-collar crimes" aren't the only threat to your company. Sadly, false claims against businesses, like wrongful damage and harassment allegations, are common.
With wireless business surveillance systems, you could either verify or disprove such accusations with video proof, safeguarding your company from being held accountable for unlawful actions that did not occur or from the reputational damage that comes with treating a valid claim improperly.
Guarantee the Safety of Your Employees
Customers, consumers, and other workers may try to accuse your personnel of misbehavior. You can keep children safe by installing wireless video business surveillance systems that will give proof to support or deny such accusations. This safeguards your workers from unjust and fraudulent litigation, among other things.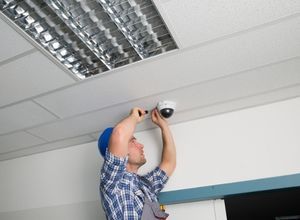 Employees are also more probably safeguarded from assault and other threats if your organization has a security camera system. In companies with business surveillance systems, such incidents are less likely to occur. A camera system also provides actual proof in the event of a crime or incident.
Create a Safer Work Environment
By getting a security system for your business, you create an environment where any fraudulent or legitimate problems could be identified, substantiated, or disproven. All crimes that take place will be quickly and effectively resolved.
Your company becomes a place where fewer false claims are created, legitimate claims are taken seriously, and employees feel safe and comfortable knowing that they have evidence and quick response if there's an incident.
Improve Productivity
Employees who feel safer are often more productive, as they are less distracted by potential threats to their emotional, physical, and psychological well-being.
Moreover, with CCTV camera systems, your employees know they could get caught "lying down on the job," so to speak, and the productivity of every employee is more likely to improve when you can keep track of who's working hard and who is padding their hours.
Protect Your Resources
Theft of property or data can seriously harm a company's operation ability. Theft by workers, clients, consumers, and third-party criminals is less probable with security cameras and surveillance systems, and when it does happen, taking prompt action is much simpler.
Ensure Quick and Efficient Response
If the perimeter is broken or odd behavior is discovered, an intelligent company security system can immediately notify you via text messages or automatic telephone calls.
Furthermore, well-designed business surveillance systems can effectively warn authorities and give evidence to ensure that any perpetrators are immediately identified and prosecuted.
Better Security System for a Better Company
Although a business security system with CCTV monitoring may appear to be an expensive investment, the benefits will significantly reduce your overall expenses from insurance, theft, losses, and damages.
We at Down to Earth Technology want to assist you in keeping your company safe. Not only can our security and CCTV professionals assist you in planning your high-quality, cost-effective business surveillance systems, but we'll also design and install them within your budget and timetable. Call us today to learn more!