A computer network support company helps, supports, and advises people and organizations that rely on information technology. They work for companies that employ computer systems, hardware or software providers, or third-party businesses that offer contract support services, such as help-desk service corporations.
A computer network support company may also produce training manuals and instruct computer users on how to utilize new software and hardware. These employees also supervise the everyday operation of their company's computer systems, troubleshooting technical issues with LANs, WANs, and other systems.
Talk to a Computer Network Support Expert
Our friendly and experienced team is ready to serve. Submit your name and email and one of our IT experts will respond quickly.
Reasons Why Your Business Should Work with a Computer Network Support Company
A computer network support company can assist everyone in an organization at some point, yet their value is often neglected. Businesses are increasingly depending on information technology professionals to meet a variety of organizational demands in the digital era.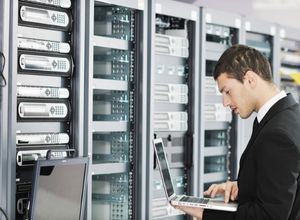 Many businesses would need the assistance of competent IT professionals to work with databases, intercompany communication, and computer and network security.
This is why, for small and big enterprises alike, having some type of network and computer assistance is not only beneficial but also required.
Standardization
Computer specialists from a computer network support company are often in charge of installing databases and applications on all machines in a company's network. Often, machines in various departments have different software requirements.
IT professionals assist in ensuring that everyone in a department has comparable applications installed on their computers and access to the databases they need.
Security
Network and computer security are critical for businesses of all sizes. Companies are more vulnerable to computer or network attacks as new viruses, adware, and malware emerge on a regular basis. A computer network support company may assist businesses in establishing safe networks and installing antivirus and security software to protect networks and individual machines.
Configuration of a Computer
In most businesses, new workers start on a regular basis and need computers that are individually configured for their duties. IT specialists from a computer network support company are often required to perform processes such as granting new workers access to databases and aiding them with the computer setup. Having someone handle new recruit computer setup frees up supervisors and trainers for other activities.
Individual Problem Solving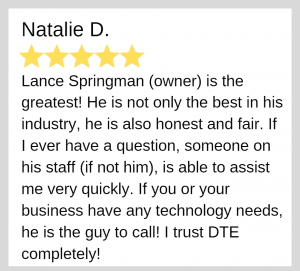 On any given day, at least one person in most firms suffers password or database access concerns. A computer network support company may provide one-on-one help to workers with specific computer and network difficulties. Employees often lack the technical skills required to troubleshoot computer and network issues, so having IT specialists with a comprehensive understanding of applications and networks may be critical to keeping a firm effective.
Network Modifications and Implementation
Most businesses would only be able to launch or change networks with the assistance of IT specialists, particularly shared networks utilized by a large number of workers. Computer network support specialists often ensure that every computer in an office or corporation is configured correctly on a shared network. When a firm chooses to modify its network, IT experts play a critical role in ensuring that the transition goes as flawlessly as possible and in responding to any difficulties that arise.
Computer systems could fail at inconvenient times, disrupting workplace activity. Because network difficulties may prevent workers from doing their tasks for a few minutes, hours, or days, having one or more computer network support specialists who can fix outages is beneficial for any size firm.
IT specialists from a computer network support company have the skills to detect a network issue and provide a remedy in a timely way without exacerbating the situation.
Hardware Requirements
Most organizations rely on an outsourced computer network support company to manage not just networks, databases, and Microsoft Exchange, but also computer hardware. IT personnel often manage requests for extra computer displays, mouse, or keyboards from workers.
When workers need to migrate to new desks or buildings, they are often in charge of moving and setting up computer equipment and systems. Computer support personnel not only handle individual employee equipment requests but also set up and fix shared devices like network printers.
What to Search For in Computer Network Support Specialists
Building a huge internal IT staff generally does not make sense when it comes to sourcing IT specialists from a computer network support company for your organization. Instead of employing full-time workers to handle your computer network, you may outsource your IT services to a company that specializes in such services.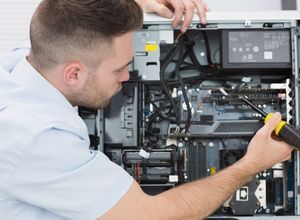 You pay for the assistance and intelligence of a complete computer network support company dedicated to premium computer network support at a fraction of the expense of bringing even half of this infrastructure into your own firm.
However, cost reduction isn't the only thing to consider. A cheaper price does not save you money if you pay for lesser quality and/or less complete service. Businesses should prioritize the value offered by collaborating with a credible, experienced supplier at a reasonable price above the cost savings of outsourced assistance.
Outsourcing is the most effective technique to receive good network support at a cost that most companies can afford. Here are six things to think about while looking for a computer network support company to work with.
1. Expertise Level
Among the most significant benefits of outsourcing computer network support specialists are the opportunity to tap into a larger pool of talent. Instead of employing a few IT specialists in-house, outsourcing allows you to tap into the skills and brains of a complete organization.
Find out how long the organization has been offering computer network assistance as a service to other businesses before employing. You'll also want to learn how long the computer network support specialists allocated to your account have been in the industry so you can analyze their past and if they have the experience and certifications you want.
2. Service Scope
When you outsource your IT specialists, the computer network support company may offer you a service-level agreement bundle outlining the extent of their service. You should carefully check this to ensure that all necessary parts of IT assistance are covered in your service plan.
Consider support availability, including 24/7 phone, live chat, and/or other channels, any IT training your company's staff may need, hardware replacement processes, and anything else you think critical to your business.
3. Capability to Provide Remote Support
The majority of IT experts from any computer network support company provide remote services to customers. You'll want to make sure this is accessible for your business, and how, if at all, the services are limited.
When deciding between local and national/global service providers, consider that in the midst of a crisis, having an on-site presence with whom you can discuss and plan face-to-face is beneficial. This vital contact and assistance are not always accessible when dealing with a computer network support companylocated outside your region.
4. Capability to Implement New Technological Solutions
When choosing a computer network support company to work with, you want to engage with specialists who can help you implement new, best-in-class technology to support your company operations.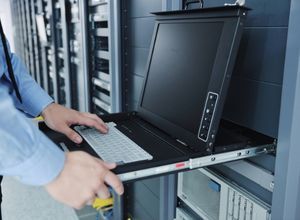 In-house computer network support specialists can accomplish this as well. Still, they are typically so swamped with current IT needs that they struggle to do constant research on the newest and greatest technology to enter the market. Outsourced IT from a reliable computer network support company can direct you toward new technologies that enhance company operations, boost efficiency and productivity, and optimize your IT budget all at the same time.
5. Additional Licensing Fees
When you get a service package from computer network support specialists, it may or may not include the cost of specific software licenses that your company will need to pay in order to continue operations.
Some businesses may charge you a fixed price for services and then charge you separately for any extra software licenses they must buy on your behalf, whilst others will include this cost directly in your service package. In any case, you'll want to know whether there will be software license costs in addition to the cost of service since this will affect the final price.
6. Total Cost Savings
Outsourcing computer network support specialists is a simple approach for most firms to improve performance and services while saving money over recruiting their own workforce. But, before you sign your name on the dotted line, you must consider your entire expenditures and the amount of savings you'll get.