Has your company ever experienced a sudden network outage and your company was down? Or, maybe, you couldn't handle this new adware or malware that infected your entire network system, compromising security. Or, worse still, perhaps you just relocated your company to a new building and can't seem to handle the entire computer setup thing?
These technology and network problems can be a real pain if you aren't prepared to handle them. This is where computer network support professionals come in. You cannot afford to overlook the significance of these IT professionals, especially if you're looking for a seamless operation of your network system.
Our computer network support professionals can save you a whole load of hassles regarding network issues. But before that, let us first understand what they do.
What Are Computer Network Support Professionals?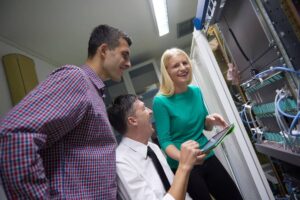 A network support professional is an expert who analyzes, troubleshoots, and benchmarks issues related to your company's network systems – from local area networks to wide area networks and internet systems.
A computer network support professional can help maintain a seamless operation of your organization's networks so you, the company head, can do what you best – manage all of your business' branches without stressing over your technology operations.
Without these computer network support professionals, your organization's inter-communication could be easily compromised, sending things south quickly. We know this is the last thing you want for your business.
Primary Reasons to Work with Computer Network Support Professionals
Computer Network Support Professionals Help Tackle Network Security Issues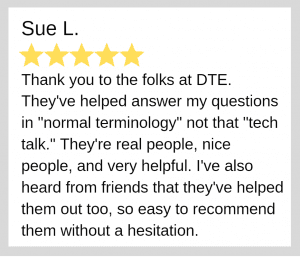 Company networks are generally vulnerable to security threats; your business is no exception. Viruses, malware, and adware can knock without warning, compromising part of your entire network system(s). A security breach could put your business activities at a standstill, affecting profitability and production.
Why risk this potential threat for your entire company? Consider working with computer network support professionals beforehand so you're best placed to combat this issue if/when it occurs, as well as build a more secure network to help prevent these issues.
Computer Network Support Professionals Help Troubleshoot Issues Hassle-Free
One or more employees could experience data access issues on a daily basis. A computer network support professional is an unsung hero here, especially when offering one-on-one assistance. Of course, while you might attempt to troubleshoot this with the existing personnel, having an experienced IT professional address these issues will increase productivity, and your employees will spend less time figuring it out independently.
From helping retrieve passwords to accessing databases, computer network support professionals can offer a shoulder for you to lean on at just the right time.
Computer Network Support Professionals Help Manage Network Outage Problems
Network systems are prone to outages, sending an entire business to a halt. We all know the unimaginable damage this can inflict on your company – whether this lasts for minutes or hours, or even days. Outages can be a real headache, especially if you don't know what to look for. This is another area where a computer network support professional can be exceptionally beneficial.
Computer Network Support Professionals Help Standardize Systems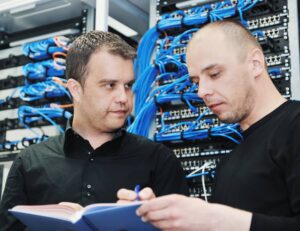 In most cases, various departments in an organization have specific needs regarding programs. Our computer network support professionals help install similar programs to everyone's devices in a department. Allowing everyone in a single section to have access to the database they need encourages a smooth workflow and reduces a department's downtime/lack of productivity.
Computer Network Support Professionals Make Computer Setups Flawless
Do your supervisors and trainers handle computer setups for new employees? A network support specialist can do this for your staff quickly and efficiently. This will also free up your supervisors for other tasks, preserving time and production for matters focused on the business and less on the tech aspects.
New staff members will need access to databases, programs, software, the network, etc. They need their computers set up for specific tasks to ensure everything runs smoothly before starting work.
Hiring computer network support professionals ensure that the job will be done right without having the potential hassle of your staff coming to you with access issues the first few days. Having it done right the first time increases productivity and reduces headaches.
What to Look for in Computer Network Support Professionals
Outsourcing is the best way work with computer network support professionals at a price most businesses can afford. If you're looking for outsourced computer network support professionals, here are six things to consider.
1. Level of Expertise
One of the best benefits of outsourcing network support is the ability to leverage a broader base of expertise. Instead of hiring a couple of IT professionals directly for your company, outsourcing lets you access the expertise of an entire agency.
Before hiring, find out how long the agency has been providing computer network support professionals as a service to other companies. You'll also want to find out how long the specialists assigned to your account have been working in IT so you can assess their background and whether they have the expertise and certifications you're looking for.
2. Scope of Service
Whenever you outsource your computer network support specialists, the service provider will give you a service-level agreement package that outlines the scope of their service. You'll want to review this carefully to ensure all required IT support aspects are included with your service package.
Consider the availability of support, including 24/7 support across phone, live chat, and other channels, any IT training your company's employees might require, security surveillance expectations, hardware replacement procedures, and anything else you deem important to your business.
3. Ability to Provide Remote Service
Most computer network support professionals provide remote services to clients. You'll want to verify this is available for your company and how the services are restricted, if at all.
Even if the service provider is local to your area, the ability to provide remote support allows outsourced IT personnel to provide faster service by logging onto your servers and applications wherever you are. Not having to wait for a technician to arrive onsite increases uptime and saves money.
4. Ability to Implement New Tech Solutions
When you outsource computer network support professionals, you want to work with experts who can guide you in adopting new, best-in-class technology that will support your business operations.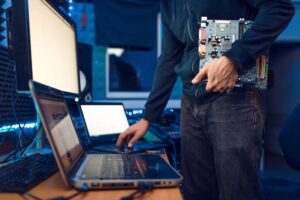 In-house IT professionals can also do this, but they're frequently so overwhelmed with current IT demands that they struggle to consistently research the latest and greatest technologies to hit the market. This is one of outsourced IT's areas of expertise: They can guide you toward new technologies that improve business operations, increase efficiency and productivity, and optimize your IT spending.
5. Additional Licensing Costs
When you're offered a service package from an outsourced network support vendor, it may or may not include the cost for certain software licenses your business will need to pay to maintain its regular operations.
A few companies will offer a flat fee for services and then charge you individually for additional software licenses they must purchase on your behalf. At the same time, others build this cost directly into your service package. Either way, you'll want to know whether you can expect software licensing fees in addition to the service cost, as this will affect the overall price.
6. Overall Cost Savings
For most businesses, outsourcing computer network support professionals is an easy way to increase services and performance while saving money compared to what they'd pay by hiring their staff. But before you sign on the dotted line, you should look at the total costs you're facing and determine what kind of savings you're getting.
It would be best if you also compared this cost with the cost of other IT support providers. Seek out multiple quotes for service to ensure that whatever price you pay is fair.
Conclusion
By knowing what criteria matter most with a network support service, your business can choose a partner that fulfills all your Information Technology needs while saving your company money and optimizing your IT spending. We at Down to Earth Technology are ready to be your all-in-one computer network support professionals. Contact us today!