Many companies and business ask, "What are network support services?" "Are they absolutely necessary?" Technology constantly changes, and most small and mid-size organizations need help to keep pace. Emerging technologies that boost productivity lend innovation to professional processes but create a unique opportunity that usually outpaces the average professional team.
Working with specialized IT companies that provide IT services like network support services instead of having internal teams participate in ongoing training and continuing education is normally the smarter choice.
Talk to an IT Network Support Expert
Our friendly and experienced team is ready to serve. Submit your name and email and one of our IT experts will respond quickly.
What Are Network Support Services?
Network support services involve everything that keeps your business' computer network running, productive, and up-to-date. Network support assures your devices are healthy and your hardware, software, and personal devices are compatible and working.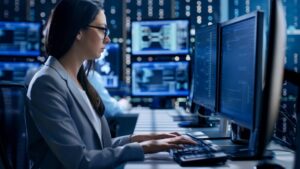 It assures no congestion- the network "freeway" is vast enough for all traffic to get through and move quickly. It also means supporting the people who use the equipment, you, the "end user."
Specifically, Network support services include everything from regular maintenance tasks to testing and troubleshooting problems to designing and developing new features to increase your functionality and productivity.
What Does A Network Support Provider Do?
Network support services include the everyday maintenance of a company's existing networks. This can involve troubleshooting, routine testing, and updates to the complete network.
When working with network support services provider, the basics of setting up and maintaining the IT infrastructure fall to the skilled team overseeing the network's smooth operations. Our team at Down to Earth Technology offers complete IT support at a fraction of the cost of maintaining an entire staff.
What Are the Various Services That Makeup Network Support?
Typical Network Support services can be divided into these four areas:
Network Administration and Setup
Qualified network administrators will oversee all vital aspects of your business for a more cost-effective approach than hiring IT staff.
This also includes the preliminary setup and connection of all devices, like backend servers, desktop computers, printers, mobile devices, and landlines, to the network.
End-User and Desktop Support
Complete ongoing end-user and desktop support is a must for maintaining productivity. End users are usually the first to encounter issues and thus are dependent upon to report issues before they spread and have a greater effect.
Network Security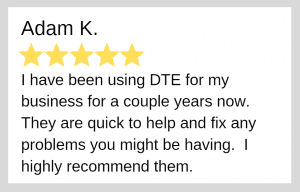 Network security poses the greatest challenge to businesses today since a single threat, like a data breach, can weaken the entire company, given the far-reaching impact of these risks.
That's why network security is a vital element of network support and reinforces the value of working with a network support provider to keep your networks updated with the latest firewalls, security patches, and intrusion detection systems, ensuring the security of all vital data.
Data Backup and Recovery
Backup and recovery of data is the lifeline when there's a network disaster. Restoration of IT network systems and processes is the first step in business continuity if a huge issue occurs. You would want to rely on a network support provider specializing in this service to ensure a timely and secure backup of all critical data for immediate access.
Benefits of Network Support Services
Here's how these network support services can change your business for the better:
Reduce Cost of Operations
When you have networking support services, you help your business reduce daily operations expenses, maintenance, and other costs. This is because a reliable IT provider can deliver services to suit your needs for a set fee every month.
This includes the costs for hardware, software, and your network infrastructure. When you make use of networking support services, updating your systems is easier, your data is more secure, and you can minimize expenses for optimal technology.
These services also enable your business to save money on extensive employee training and have fewer expenses when you have employee turnover. Networking support allows you to have predictable costs and avoid those expensive IT fixes when something goes wrong.
Prevent IT Issues and Security Breaches
With the ability to better control problems and prevent IT issues, managed networking support services enable your business to focus unwaveringly on its goals instead of dealing with complex, costly IT problems.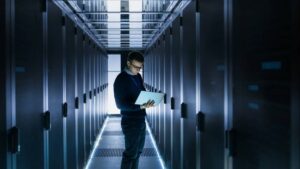 Take advantage of scalable networks with optimal flexibility, high speed, and necessary upgrades to support your business fully. When your IT solutions are more comprehensive, they work to facilitate business growth and minimize IT problems.
Your provider should conduct preventative measures to ensure your business is never unprepared for a security breach and is always being monitored. This includes incorporating technology that fits your business, regular maintenance on your systems, and continuous monitoring of your network.
Many IT problems and security breaches are entirely preventable, making it more important than ever to utilize networking support services and provide the best foundation for maximum system uptime.
Improve Your Service and Productivity
The service or products your business provides are important. How can your employees focus on their work when IT issues constantly get in the way? Slow, unsecured networks are no longer an option when you want to give your business the best chance to succeed.
With the right networking support services, you can better provide your service or products to your clients. Optimized networks and increased performance from management and employees help your business to save valuable time and money.
Routine Monitoring
The best defense against network issues is a good offense. Routine monitoring lets your business stay one step ahead of potential network problems. Routine monitoring prepares you to tackle these issues when they're small, minimizing downtime and mitigating the extent of the damage.
Routine monitoring as part of your network management services provides a lot of benefits, but none are greater than the following:
Manage issues easily: When your provider actively monitors your network regularly, they are prepared to find immediate solutions when something goes wrong and even prevent issues from happening.
Avoid downtime: Routine monitoring helps minimize the time your network is down because network professionals can detect issues earlier.
Better performance: Overall, routine monitoring allows network professionals to smooth out the bumps in the road before they become bigger problems, supporting better performance in the long term.
Optimized Operations
Network management services as a whole consist of a variety of individual services provided to your business. This includes—but is not limited to—network maintenance, monthly status reporting, monitoring of attached network devices, implementation of upgrades/patches, and user administration.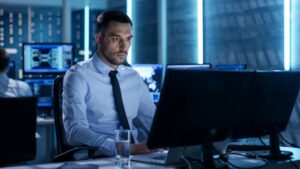 Each of these helps paint a clearer picture of your overall network performance, allowing a network professional to optimize the operations within your company better. For example, monitoring the number of attached network devices enables you to visualize the IP-enabled equipment that connects to your network on an average day, making it easier to identify spikes in traffic and usage.
As a result, your provider can determine whether your IT infrastructure and network can support that traffic and make adjustments to ensure your network operates efficiently.
Maintain A Competitive Edge
Companies need help to remain relevant in a competitive, highly technological market. Managed network services can assist organizations in maintaining a competitive edge by getting and implementing the IT systems required to function optimally and remain focused on growth.
Managed network service providers always help businesses employ the latest technologies, install the most up-to-date equipment, and provide strategic network advice to drive the business toward 100% uptime.
Find Reliable Network Support Services Today
To provide the best service or product possible to your client and enhance the success of your business, rely on networking support services from the right provider.
By helping your employees be more productive, minimizing costs, and preventing problems, these support services enable your business to go to the next level.
When Information Technology is a vital part of many businesses today, a lack of support can quickly leave you behind. Contact us at Down to Earth Technology today for a comprehensive consultation to determine what would work best for your business when finding the right support.