Managed IT support services can ease the burden on your IT team, allowing them to concentrate on strategic growth issues instead of day-to-day operations. They may concentrate on using the finest software solutions for your company and methods to enhance your IT infrastructure to increase productivity across departments with less time spent on routine duties like routine servicing and maintenance.
Managed IT Support Services: What Are They?
Any IT service and support provided by a third party using cloud-based software are managed IT support services. These information technology solutions often provide round-the-clock system monitoring, proactive assistance, prompt troubleshooting, and repair services—often before your internal staff knows a problem exists.
Talk to a Managed IT Services Expert
Our friendly and experienced team is ready to serve. Submit your name and email and one of our IT experts will respond quickly.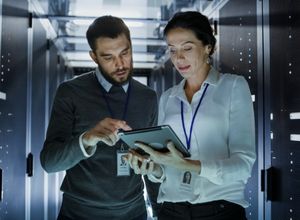 Managed IT support services include remote network administration and monitoring, managed video conferencing and other tools for teamwork, server upkeep, cloud-based storage, virtual machine management, and cybersecurity precautions.
These services provide several advantages, including cost savings, round-the-clock IT services and support, and lessened pressure on your own IT employees to become specialists in the many programs your company employs daily. It may be less expensive and provide you more confidence that your systems will function when you need them if one company handles all of these services.
Why Do Companies Choose Managed IT Support Services?
Employing managed IT support services typically benefits three types of businesses:
Businesses with too many systems and tickets for one person or team to handle alone need to be bigger to employ someone or a team internally.
Organizations with IT departments must be more active with routine duties, including software updates, end-user support, and troubleshooting. They rely on MSPs for help desk assistance since they need to concentrate on high-level, strategic projects or long-term goals.
Companies that have an IT staff and are perfectly capable of managing daily duties but need outside assistance for more complicated projects.
These initiatives, such as infrastructure upgrades and migrations, are often created to enhance the business's overall IT strategy.
What Are The Advantages Of Working With Managed IT Support Services?
Let's examine the advantages of managed IT support services for small- to mid-sized company owners.
A Comprehensive Strategy Streamlines Operations
When anything goes wrong, there is no finger-pointing or assigning blame since monitoring, management, data storage, and security (to mention just a few) are all handled under one roof. Your managed IT support services will resolve the issue.
Centralized Servers And Apps Increase Stability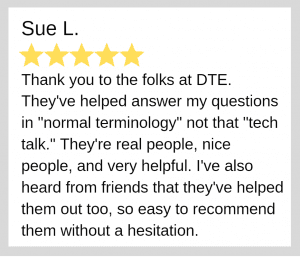 Your data and applications are remotely hosted with managed IT support services, often in a virtual server environment. These establishments often follow international standards for security and regulation. Your data will be safe at a distant facility, even if a natural calamity like a fire or flood affects your workplace. If anything goes wrong in your office or off-site, managed IT support services have standards to assist you in maintaining business continuity.
Consistency Of Service Offers Comfort
Visualize this situation. You finish a major presentation just after midnight when the server crashes. Your internal IT team has been at home for a while. On the other hand, the managed service provider (MSP) is working. There's a good chance the network would stay intact with managed IT support services since the MSP would see an issue before you did.
Your Workforce Cannot Fill Certain Positions That Trained Managed IT Service Specialists Can
Today's IT infrastructure and software programs often call for specialized, one-of-a-kind skill sets. Learning new, one-time skills is necessary for the implementation of new software. You can spend money and time training your in-house team every time you roll out a new program or let your MSP take charge of the situation.
Internal IT Personnel Can Concentrate On Innovation
With the nuts and bolts of daily operations running on autopilot, thanks to managed IT support services, the IT team can focus on the company's core competencies and the innovative ideas that would keep it at the top of your industry.
Managed IT Support Services Can Help With Compliance
From consumer privacy to financial data security, compliance rules and standards help protect individual rights. Compliance plays an important role in avoiding fines and growing your customer base, particularly for business owners in the retail, e-commerce, healthcare, financial services, education, and legal industries.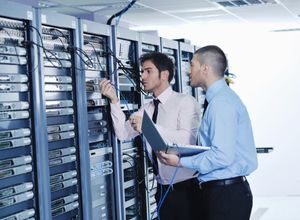 Managed IT support services could shift the burden of compliance. Trained experts could ensure your technology systems follow national and international rules and regulations.
Stable Costs Lessen Cash Flow Burdens
Managed IT support services have steady monthly payments and low start-up costs, making it easier for you to budget for IT expenses.
Centralized Management Simplifies Flexible Or Remote Working Arrangements
The centralized management of the IT services not only lowers the total infrastructure expenses but also guarantees that every employee has the same level of technological exposure. Employees may log in and enjoy the same speed and security as on-site whether they work at your office, a satellite office, from home, or another place.
Scalability Aids In Resource Conservation And Cost Management
As your company's demands expand, scaling up your managed IT support services is simple. You can scale up managed IT solutions during your busiest season and scale them down as necessary with pay-as-you-go service options.
Access to High-End Resources and Solutions
Introducing new technologies may be costly and time-consuming. Therefore, it might be challenging for any small- or medium-sized organization to have the most up-to-date systems and software. Since technology advances rapidly, many SMBs are unlikely to have the most recent stack. Working with managed IT service providers enables a firm to have the "latest and greatest" technology without the significant financial load by giving customers the most modern IT tools and solutions.
This ensures that your company adheres to all necessary standards, legislation, and technological requirements. MSPs are aware of and informed about the standards for technological compliance. As the service provider, the provider is responsible for maintaining technical compliance; this presents one less issue for the company.
Proactive Measures to Reduce Downtime
If you think of a managed service provider as someone you call when your system needs fixing, or something else needs to be repaired because it isn't functioning. Think again. The business of mending things is different from MSPs. The exact opposite is true.
Providers of managed IT services use a preventative strategy to stop and fix a connection failure before it occurs. But because nothing is infallible, MSPs provide round-the-clock network monitoring to ensure any issues are dealt with before they seriously impact anything.
Managed IT support services use the fastest and most sophisticated remote monitoring and management solutions to identify and fix possible system flaws. This strategy minimizes downtime for your company and prevents issues from becoming worse. Your firm will suffer the longer it takes to correct a systemic mistake or address a cybersecurity issue. Because of this, IT teams will utilize managed IT services firms to monitor their networks, even at enterprise-level businesses.
Enhanced Cybersecurity
Small company owners and the operations staff may have many sleepless nights due to the increased frequency of cyberattacks on these companies. Because managed IT support services provide round-the-clock monitoring and, even better, virtually rapid reaction to potential assaults, outsourcing managed IT services will give you peace of mind. With limited resources, small firms cannot afford to hire a team of IT specialists to monitor the network around-the-clock.
To shield their customers from online threats, managed IT support providers deploy various cutting-edge technologies and system setups, including antivirus and intrusion detection and prevention systems. Managed service providers provide customers with cyber security measures such as pinpointing security issues for diagnosis and repair.
Higher Productivity
One of the nicest aspects of having managed IT support services is the opportunity for small companies to concentrate completely on their primary objectives and upcoming milestones without interruptions. We often see members of the IT department being pulled away from important tasks to address issues and system outages. By outsourcing network administration to an MSP, the IT team can focus on important tasks rather than troubleshooting broken hardware and software.
Increase ROI and Reduce Risk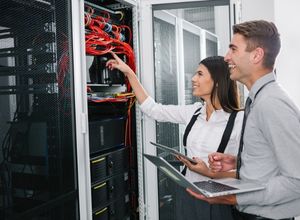 With managed IT support services, your company has access to the collective experience of a team of IT professionals with specific and in-depth qualifications, industry training, and up-to-date certifications. Additionally, multiple dedicated resources with superior technical expertise and experience are available to you to call upon solutions using industry best practices.
Being at the forefront of technology policy, managed service providers also provide early notifications of government regulatory compliance.
Future-Proof Services Keep You On The Industry's Cutting Edge
Your managed IT support service provider continuously learns, trains, and upgrades systems to ensure leading technology systems. You benefit from their investments and expertise to stay at the technology's cutting edge without paying for upgrades or training.
Bottomline
Outsourcing managed IT support services improves the company's overall productivity and indirectly influences user productivity. By outsourcing and allowing the company network to be managed by experts, you also provide a secure, problem-free network for customers and clients. The chances of your customers facing any problems are minimal, providing a great end-user experience.