IT providers are becoming more and more in demand in today's modern world because as businesses begin to grow, so do their technology needs.
Growing businesses usually save time and money by contracting with the proper IT providers. It lets you augment your existing IT staff and infrastructure by working with dedicated IT providers to take care of your servers, network, computers, and technology needs.
Talk to a Managed IT Services Expert
Our friendly and experienced team is ready to serve. Submit your name and email and one of our IT experts will respond quickly.
This is the ideal solution for companies that need to operate at peak efficiency but do not have the resources to manage a large on-site IT staff.
How IT Providers Work
IT providers currently perform three basic work types: apps or custom software development, maintenance, and support. Moreover, they offer consulting services.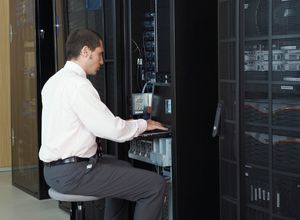 Software development is often done when a client consults and wants an additional feature or service added to their system. This can range from basic application development for financial services up to mobile app development.
Finding software solutions and apps or software development are important features for improving businesses. (An enhancement project is a request to add a new feature to an existing application.)
Maintenance is primarily a monitoring process, but it will be analyzed and fixed promptly if a problem is identified. They might need to analyze the source code and the data in a database or a file to find the problem.
Support is given when a client sends an email or calls, notifying the IT providers that they're having a problem. The problem could be anything from a virus to a faulty software program.
After the customer signs the contract, consulting with the client is the first step. Consulting is necessary to identify the needs of the new client. Additionally, consulting takes place whenever the IT providers are notified of a problem. The IT experts could be expected to answer questions and provide advice.
Why You Should Outsource Information Technology
At some point, companies of all sizes will consider using the professional services of IT providers — when their current hardware, software, data storage, or networking needs grow beyond their staff's scheduling resources and skills.
Businesses that have undergone the digital transformation process, and looking to expand into internet sales, must consider an information technology service to assist in streamlining their transition. Consider working with IT providers if you run into the following issues.
Growth/Scaling
Keeping an in-house IT department could be expensive. IT professionals are expected to be paid for their expertise and knowledge (rightfully), and turnover in these positions is historically high. To grow their business' technical scope and business reach, many SMBs consider hiring IT providers, saving money in the long term that they will otherwise spend maintaining an internal IT crew.
Distributed Teams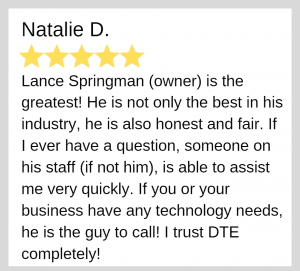 Companies that maintain remote and distributed teams will find much of their IT lives in the cloud. These businesses might also find that hiring IT providers to connect and implement their various subscription software makes financial sense since the IT services companies are implementation and integration experts.
These IT providers can monitor software for updates and upgrade your systems uniformly, which reduces downtime.
Lack of Employee Resources
Most managed IT providers bundle software and hardware at a lower price than many SMBs can afford. The best part about these bundled services includes support and maintenance.
Your team could continue running the business instead of parsing server logs and getting 2 a.m. calls regarding system outages. Small businesses operating on tight budgets can re-invest in the core business instead of damage control.
Employees are the priciest part of running a business, but managing the technology assets takes a close second. The effort and time required to track and maintain your devices could be a full-time job, but many IT support companies offer device upkeep services that would keep your employees running for a flat monthly fee.
Security Concerns
As companies expand and attract more clients and partners, overlooked cybersecurity could become a huge liability. While you can train your staff to learn to implement highly secure data environments, managed IT providers specialize in cybersecurity.
Whether on-premise or in the cloud, IT-as-a-service can bring your company ready-made or custom-ordered cybersecurity to keep your employee and client data safe.
What to Search for in IT Providers
IT providers come in different shapes and sizes and specialize in different parts of the IT spectrum. You could hire IT providers to hang flat-screen TVs in your office, build a network for all your devices, and send your data to the cloud. Regardless of your specific service needs, several factors are important in any outsourced IT relationship.
Expertise
Before you can dig down into a potential partner's areas of expertise, you should have a firm understanding of your primary needs – as some providers service very niche specialties.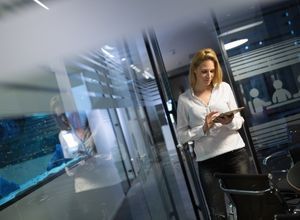 When searching for IT providers, it makes sense to find one that can serve all aspects of your IT environment instead of just a particular area. While you may have serious concerns regarding your data security plan (or lack thereof) and want an expert provider to protect your data and reduce the risk of threats, you should also trust their knowledge of the infrastructure that runs your business.
A provider that would serve as a true partner should be prepared to assess the systems and make recommendations on the right way to make the best use of your existing solutions, as well as how to enhance your processes, boost efficiency and security and set you up for success.
This means having knowledge of and the ability to troubleshoot issues with your existing software and hardware and being knowledgeable and forward-thinking about your future needs.
Pricing Catalogs and Transparency
It seems obvious, but it's easy to pass over. Ensure you fully understand the provider's pricing structure—research implementation fees, pricing for different integrations, and hardware service plans.
What about service calls? 24/7 help desk support? Depending on the device catalog and software stack's complexity and size, you may want to sign up for subscription services rather than tacking on fees whenever there's a problem. Think of IT providers like an insurance for your technology.
Compatibility
Not all IT providers build on the same foundation, so useful services for a healthcare company might not work for a design agency. Some technology and information and services agencies specialize in Windows PCs, while others target Macs.
Take stock of the current infrastructure to ensure your chosen managed services can handle your OS, server, and networking needs. Even if you don't have much experience with vetting IT specialists, consider your initial conversations an interview. Ask lots of questions, and get your internal software experts available for backup.
A Proactive Mindset
You will want to avoid the break/fix approach. IT providers that "react" to problems won't have your best interest in mind and won't be invested in your long-term success. They might be looking to take advantage of the "issues that come up" and your dependence on the need to have things up and running fast again.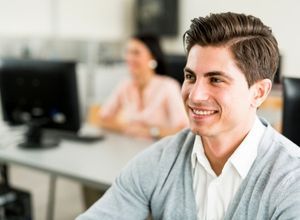 An IT service provider that runs proactively will always want to figure out what went wrong and find ways to ensure it doesn't continue to happen. They would work to become an integral part of your business – understanding your processes, searching for ways to avoid downtime, saving money on unnecessary expenses, and improving productivity.
Customer Service Record
Remember, IT providers are supposed to act as a service. It is important to research how the company will interact with your technology and how they treat you as a client. Read reviews and ask for references.
IT providers will access your business's most sensitive data, including employee and customer records and your business's income and revenue. Ask for their security plans, how they have dealt with cybersecurity breaches in the past, and what their training recommendations and future upgrade include.
Strategic Approach
Experience in strategic planning is a powerful companion to experience with a proactive mindset. Rather than just putting a Band-Aid on what is broken or doing what is necessary to get you by, strategically oriented partners will be committed to continuous improvement. If you think continuous improvement results in higher costs, you may be surprised to discover this is not the case. When working with strategically-minded IT providers, the results should be greater organizational efficiency and predictable costs.
A partner with tremendous experience in IT strategy must be part of your long-range business planning and budgeting team. They would have experts on staff who can recommend the next steps to help you put processes and systems in place to help your business reach its maximum potential.
Internal IT Support Services
Another option many agencies have tried in recent years is turning their internal IT departments into IT services company extensions for their existing business structure. While the IT crew is still technically part of the organization, they got greater control over the scheduling and direction of IT services around the company.
Aside from giving the IT department — the technical experts in the building — agency over their services, you also keep the IT services on-site. When the IT department controls its funding, scheduling, and resources, they're less likely to be distracted (or impeded) by the whims of the bigger corporation.
In this model, IT departments create service plans and monetize their skills, making their department's value more transparent. This option is often best for businesses with an existing IT team or looking for on-premise software and hardware solutions to increase revenue.