What is outsourced IT technical support? Outsourced IT technical support is a technical service made to help with computer technology that an internal member of your company does not own.
It includes any business's day-to-day IT support requests—systems administration requests, tech support, troubleshooting, installing and configuring computer hardware, software, systems, networks, printers, scanners, etc.
It is also a critical function of each business. Any time you got IT problems, your business can suffer. Issues that go unresolved are guaranteed to frustrate staff, slow productivity, and cost your organization money and time, both precious commodities for any business.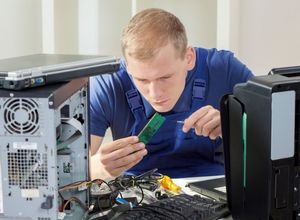 However, working with outsourced IT technical support can eliminate the everyday stresses of IT support, letting you and your teams keep your focus where needed. An outsourced IT service provider with a dedicated IT help desk would ensure you receive the efficient and effective support required to keep your daily work on track, improve your bottom line and take your company to another level.
What Is Outsourcing?
It is a business practice where a company contracts another for services and products. Outsourced IT technical support is the same concept. You employ an IT support company to provide you with your needed support.
Outsourced IT technical support offers a variety of products and services to help businesses operate as effectively as possible. In most cases, your business would have the option to customize the services you need to fit your budget and IT needs.
Here's the scoop on the advantages of outsourced IT and managed services.
1. Access to Seasoned Professionals
By outsourcing your IT department, you get access to experienced IT professionals. These are professionals who are both generalists and experts in specific IT needs. Since they work with numerous clients, they have experience fixing more unique IT problems.
For example, an outsourced IT technical support could send you a network specialist if your network patch panel has issues.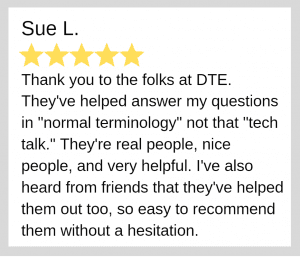 They have a greater skillset and knowledge regarding networking versus a generalist. Accessing a group of experienced professionals also means receiving more extensive care.
When various tech issues arise, a team can quickly pool their knowledge together to find the best solution. An in-house IT team is often a smaller group of generalists instead of experts in specific areas. They'll have limited skills and experience compared to outsourced IT technical support.
2. Cost-Effective
Among the most surprising benefits of outsourced IT technical support is its affordability. Most businesses that switch to outsourced IT learn that they save more money over time. They save more than employing an in-house team or calling a different computer repair technician. With in-house IT, your business has to spend time hiring and managing a team of IT employees.
You will have to add them to the payroll and help pay for insurance, vacation, and other benefits. You pick your business's services with outsourced IT technical support and just pay a monthly fee. The services and prices included are transparent.
3. Reduced Downtime
Outsourcing IT means you got a group of professionals on hand anytime your tech goes down. They could quickly troubleshoot and fix the issue to get you back up and running. Have you ever experienced a tech concern that left your equipment or computer unusable? You are stuck and unable to continue work until you or a person in the company can fix the issue. Employing an outsourced IT technical support team reduces this downtime.
4. Improved Security
Cyber security is a major issue in the tech and business world. If you do not have the most up-to-date security, you're putting yourself and your company at risk for cyber attacks. These attacks could cause you to lose valuable work and sensitive information, not to mention the costs of getting it back. Outsourcing IT offers you access to professionals with the experience to safeguard your network from security threats.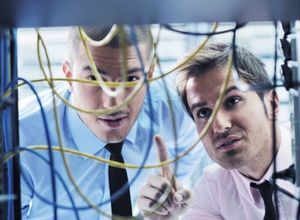 They monitor your business's technology and networking around the clock. They can identify and stop the threat if an issue occurs before it damages your system.
5. Scalable
Growing businesses face the issue of finding services and products that adapt to growth. An internal IT department is more time-consuming and expensive to manage when you're company is growing. You will need more help to fulfill your company's growing needs. An advantage of outsourced IT technical support is it could scale with growing businesses.
They already got the people, resources, and tools ready to fit almost any business size. There are, however, IT businesses that focus on small businesses than sus larger ones. Look for an outsourced IT technical support company that can scale as your company grows.
6. Trustworthy Service
When you bring a glitching computer to the repair shop, do you know you are getting the most reliable service? Unfortunately, many IT repair shops don't always provide trustworthy service and information. With outsourced IT technical support, you get reliable, transparent advice and service.
Thus, you and your outsourced IT support could build a strong level of trust. You will have a powerful ally who wants to help your company succeed. They'll offer you valuable knowledge about safely running your business in regards to IT.
7. Be More Competitive
Less downtime, cutting-edge technology, and faster support make your business competitive in a growing market. Hiring outsourced IT technical support gives you access to the technology and support larger businesses have in your industry. Focusing your effort and time on your business is critical for progressive growth.
8. Proactive Support
Outsourced IT technical support companies provide a mix of reactive and proactive support. It is the proactive part that keeps your business tech operating smoothly. Most internal IT departments fix problems reactively, meaning after they occur. This could still cost you valuable money and time. Outsourced IT agencies will monitor your tech to find problems early on. Should an issue arise, your IT team will solve it without disrupting your company processes.
9. Focus on Your Business
You wish to focus your energy and resources on running and growing your business as a business owner, right? You do not have to deal with daily IT support and computer problems by outsourcing your IT support. Many business owners want to manage IT problems themselves or with their IT department.
Your position, however, is to focus on core business functions, not IT support. Outsourced IT technical support takes this responsibility and handles it for you. If you wish for your business to continue growing, you and your employees must concentrate on what matters most, your company and your clients.
10. Access to Cutting-Edge Technology
Outsourced IT technical support has access to the newest cutting-edge technology available. This lets them perform their jobs as best as possible. The IT experts at an outsourced IT company also got access to cutting-edge knowledge. Most IT companies need their employees to undergo regular training to stay up-to-date on new technology and practices.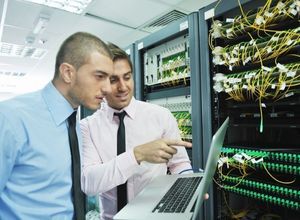 This lets them keep their skills sharp to serve their clients better. You'll also access new technology for your business's hardware and software. Outsourced IT technical support can advise you on the best technology to fit your needs.
11. Skip the Training
Companies with an internal IT department have to train their new IT department hires. Those without any IT support will need to train themselves and their employees on some of the technology best practices. Both scenarios cost money and time.
Technicians for outsourced IT technical support already got the training and skill necessary to accomplish any IT task. They also partner with multiple clients, which allows them to keep learning and developing new skills. You and your employees won't have to worry about training and handling their technology alone.
12. Remote Support Available
Remote IT support is a thriving service. It keeps customers safe during a pandemic and lets IT support resolve issues faster. Remote support lets your IT support access your computer without going on site.
Through a secure software portal, the technician could diagnose and fix the problem or have you assist. Many software tech issues do not require a technician to come on-site. This will save you money and time as no one needs to travel.
Best Practices for IT Outsourcing
Make a Plan
Create realistic and clear objectives with well-defined timelines. This equips you with more control over your project. It also lets vendors create realistic, well-defined proposals.
The more data you get, the easier it is to estimate the cost and size of the project. And by making a good plan at the beginning, you always got something to refer back to if your project goes off course.
Choose a Provider You Could Trust
The outsourcing provider is an extension of your business. Choose someone you feel comfortable sharing trade and business secrets with, or the project will not progress.
As a baseline, hire a provider that understands your industry. They should also be fully aligned with your business culture and objectives. The more they understand your needs, the smoother the project will go
If you're still not sure, consider launching a small test project. This lets you work together without putting your main project at risk.
Enjoy The Benefits Of Outsourced IT Technical Support!
Are you asking, "should I outsource IT?" If yes, the benefits of outsourced IT will help you make a smart decision. Outsourcing IT will let your business work at its best, even when technology has other plans. Want to make the jump or learn more? Let's connect and discuss how we can help with your IT needs.